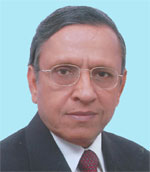 Voluntary Blood Donors around the world are the lifeline of the community as blood donated by them is the source of safest blood and blood products. Blood donation by a voluntary blood donor is considered the greatest gift by one human being to another. Non-remunerated blood donation is critical to ensure sustainable and high-quality blood services, which are the backbone for the well functioning health system in the world. Blood donation is also beneficial for the donor as it not only allows for a free health check up but has also been seen to reduce risk of donors to cancer and heart attacks.

World Blood Donor Day is observed globally on the 14th June every year, the birthday of Lord (Dr) Karl Landsteiner, who won the Nobel Prize for discovering ABO blood group system. This day is observed as an occasion to raise awareness of the problem and thank donors.

The theme for this year's World Blood Donor Day is "Thank you for saving my life" and encourages people at large to "Give freely, give often. Blood donation matters".

The Red Cross Movement is uniquely placed to contribute to improving the safety and accessibility of the world's blood supply. Having the largest humanitarian network of volunteers, we have considerable experience with volunteer retention, motivation and support. The Red Cross Red Crescent has more than 34 million blood donors globally.

Indian Red Cross Society has 166 blood banks across the country and provides for about 10% of the total blood collected in the country. The blood bank at the National Headquarters of the Indian Red Cross Society collects approx. 30,000 units of blood annually out of which 90% is collected from voluntary blood donors. It organizes more than 300 blood donation camps. This state of art blood bank serves about 50% of thallassemic children in Delhi NCR and 85% of the blood collected is given free of charge for patients of the government hospitals.

I hope that a new generation of motivated voluntary unpaid blood donors will form a pool that will provide the safest blood possible for use whenever it is needed to save life. Recruiting and retaining fit and healthy donors will not only improve the long-term safety and sufficiency of a country's blood supply, but also promote a safe and healthy life style among them.

On World Blood Donor Day, I wish to thank all the voluntary blood donors and the Voluntary blood donor camp organizers connected with the Indian Red Cross, for their gift of life and hope that they continue to motivate others especially the youth to do so. I also wish to exhort those unable to donate for any reason to volunteer their services as advocates.

Dr S P Agarwal
Secretary General,
Indian Red Cross Society