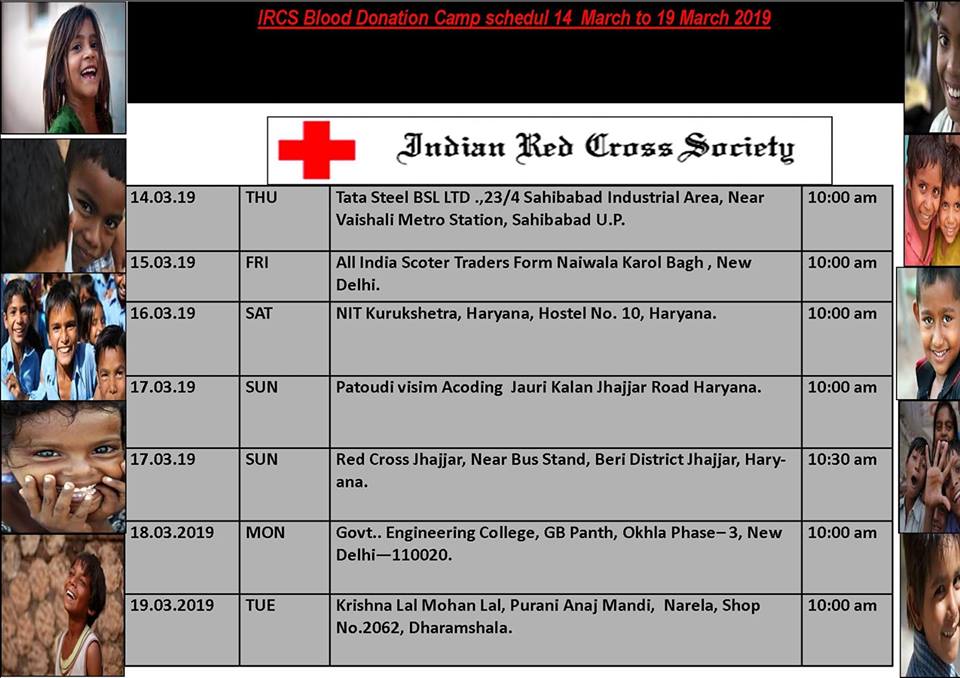 Transfusion of blood is an essential part of modern health care management. The first Blood Bank was started in India by Indian Red Cross Society (IRCS) in 1942 at All India Institute of Hygiene & Public Health, Calcutta (West Bengal).
In 1977, the blood bank started operating from the Indian Red Cross Society, National Headquarters (IRCS, NHQ). The Blood Bank is running round the clock and provides the services to the needy patients. It was designated as Regional Blood Centre by State Govt. in 1996 and has been designated as Model Blood Bank in 2010 by National AIDS Control Organization, Ministry of Health and Family Welfare, Govt of India and is also certified by the BIS for ISO 9001:2008 and accredited by NABH & NABL.
The NHQ Blood Bank focuses on encouraging voluntary blood donation. It collects approximately 25000 units of blood annually which contributes about 10% of the total blood collected in Delhi. The percentage of voluntary blood collection is above 90% in IRCS as compared to the 20-50% ratio of the total collection made by other blood banks of Delhi. The blood bank provides 90% of total collection of blood free of service charges to the patients admitted in the General Ward of Govt. Hospitals in Delhi as well as to 975 Thalassaemic patients registered with it (which is about 50% of all the Thalassaemics in Delhi).

The IRCS (NHQ) Blood Bank is fully equipped to collect blood at its premises and also has mobile teams, which go out frequently to hold Blood Donation Camps. The blood collected is tested for HIV I & II, HBs Ag, HCV, VDRL & Malaria. Blood grouping with Rh D and Antibodies Testing (three cell panel) is conducted by fully automated advance technology. To ensure effective utilization of blood, besides supplying whole blood, Red Cross also has the facility of component separation that provides different components of blood, like fresh frozen plasma, platelet rich plasma, platelet concentrate, packed cells, cryoprecipitate and platelet aphaeresis.
Organizing Blood Collection Camps in and around Delhi :
The Society is fully equipped to collect blood within the premises of the Blood Bank and also has mobile teams which go out regularly to hold Blood Donation Camps.  The mobile teams cover different parts of Delhi, Noida, Gurgaon, Ghaziabad, Faridabad, Bahadurgarh and even go to Pilani, Haldwani, Phagwara etc.  Blood Donation Camps are organized in schools, colleges and other places with the help of religious, social, political, commercial, and military / paramilitary organizations.
Highlights of major camps:-
A massive Blood Donation Camp was conducted on 24th April, 2017 by Sant Nirankari Mandal on the occasion of 'Manav Ekta Diwas' where 1370 devotees donated blood voluntarily. A total 2931 numbers of donors were provided by Sant Nirankari Mandal in 12 camps organized by them during the year.
A total number of 705 units were collected from the volunteers in a camp conducted in BITS, Pilani, Rajasthan, from 3 - 6 Feb. 2017.
Blood Donation Camp was organized in Parliament House on 13th December, 2017 on the occasion of the function held to mark the 14th Commemoration Day of the supreme sacrifice made by Security Personnel on the altar of duty while thwarting the attack of terrorists on Parliament House on 13-12-2001. Ministers of Lok Sabha and Raj Sabha also attended the function.  76 people paid homage to the departed souls by donating blood voluntarily, including their family members.
In the year 2017-18, Indian Red Cross Society, Blood Bank collected a total of 26908 units of blood out of which 25084 units were collected from voluntary blood donors. A total of 362 Blood Donation Camps were conducted in various places like Educational Institutions, Corporate Offices, Religious/Social Organizations etc.
The aim of the organization is to phase out replacement donors and achieve 100% voluntary blood donation in future.
Blood Donor Screening  Processing & Storage of Blood
Donor blood is tested for infectious diseases (TTIs) such as HIV, HBs Ag, VDRL & HCV and blood group serology.  The screening of Transfusion Transmitted Infectious Marker (TTIs) is done by ELISA Method.
Blood Distribution
A.    In the year 2017-18, 51843 Blood/Blood components were prepared.  The total 24132 units of blood components were issued free of cost to the patients admitted in Government Hospitals, Thalassaemic and Hemophilic Patients.  8299 units of blood issued against processing charges to the patients admitted in Private Hospitals/ Nursing Homes.  

B.    Thalassaemia: In Delhi, there are about 2000 registered thalassaemic patients who are receiving blood from various Regional Centres like AIIMS, RML Hospital, Hindu Rao Hospital, LNJP Hospital, GTB Hospital and private blood banks. Out of which 975 patients are registered with Red Cross Blood Bank and more than 200 registered patients are from outside Delhi. IRCS continues to look after approx. 50% of the Thalassaemic patients in and around Delhi and provides Blood/Blood Components, to thalassemic patients and to the patients in Government Hospitals free of service charges.
Certificate of accreditation for ISO by BIS, NABH and NABL 
The IRCS (NHQ) Blood Bank has been certified by IS/ISO 9001:2008, NABH and NABL w.e.f 2012 and 2013. Routine surveillance audit for the accreditation has been conducted by the auditor team in 2017- 18 by BIS, NABL and NABH for renewal of accreditation.
External Quality Assurance Programme (EQAS):
IRCS (NHQ) Blood Bank has been enrolled with SDMH, Jaipur, (BEQAS), CMC Vellore, AIIMS and Bombay Red Cross for proficiency for infectious marker and serology testing.
Follow us on Facebook at https://www.facebook.com/indianredcross