The State of Jammu & Kashmir is facing the worst floods in six decades. Incessant rains have rendered life out of gear in the state with over 200 dead. Around 2600 villages have been affected with 450 completely submerged in water. The capital of the state Srinagar is suffering the worst flooding in a hundred years and though rains have stopped for now, yet the water level currently stands at over 11 feet with many areas totally inundated. People are trapped on the upper floors and rooftops of their houses. The NDRF and the army have launched a massive rescue operation and the situation has been declared a national emergency by the Hon'ble Prime Minister, Mr. Narendra Modi.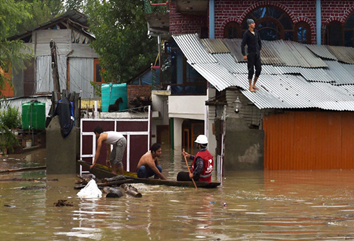 The Indian Red Cross Society First Medical Responders and volunteers have rescued hundreds of stranded people and moved them to dry safe shelters. They are offering assistance in the form of shelter, First Aid and psycho-social support. Tent colonies have been established and maintained by these volunteers.

The National Headquarters of the Indian Red Cross Society has airlifted assistance to Srinagar in the form of 750 tarpaulin sheets, 1000 kitchen sets, 2500 woollen blankets and 1200 family tents (for 5-7 persons) etc. in coordination with the Government of India. Further, two Water Purification Units (WPU) with an output of 3000 L/Hr. and six WPU with an output of up to 700 L/Hr have also been airlifted to Srinagar along with experts who will operate them. 1400 blankets, 400 family packs and 900 tarpaulins have also been sent to Jammu by rail. The total value of relief provided so far is approximately INR 4.3 crore. It is expected that more assistance will need to be dispatched in the coming days and weeks. Teams of First Medical Responders are on standby to provide trained help.

If you wish to support the efforts of the Indian Red Cross Society for this cause, you can issue cheques/ Demand draft in favour of the Secretary General, Indian Red Cross Society (for in-country donors). Foreign donors may address their cheques to the Secretary General, Indian Red Cross Society – Foreign Exchange. Kindly send the cheques/ Demand draft to The Secretary General, Indian Red Cross Society (National Headquarters); 1, Red Cross Road, New Delhi - 110001.

In case you wish to make a donation through bank transfer kindly send an e mail to the following:

1. Dr. Veer Bhushan, Joint Secretary, Indian Red Cross Society
joint.secretaryircsnhq@gmail.com
2. Mr. Manish Choudhary, Director Administration, Indian Red Cross Society
choudhary.manish@yahoo.com
All donations made to the Society are exempt from tax under section 80 G under the Indian IT Act.