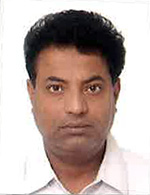 Every year, January 12 is celebrated as National Youth Day (Yuva Diwas) across the country with great pomp and fervor. This is of special importance to us at the Indian Red Cross Society (IRCS) as well as entire Red Cross Movement all over the world. About half of the volunteers of the International Red Cross and Red Crescent Movement are young people.
India has world's largest youth population. India is the largest democracy in the world and the youth of the country is revolutionary. It is unafraid and wants to know more. It wants to explore, build and discover more than any generation before it. The youth of India is aware that they don't have it all and they are ready to fight for it.
Modern day youth of India lives in the most interesting phase of the history. As the Indian economy went globalized and the internet is already an integral part of our lives, we have fairer chances of making it big than any of the previous generations.
The youth is considered to be the best asset of any country and investment in the human resource promises flabbergasting returns. However, if we are to develop the citizens for a better nation tomorrow, we are supposed to not only develop their talent but also recognize and counter the challenges Indian youth is facing in present day.
Indian Red Cross Society (IRCS), through its junior and youth programs, plays an important role in channeling this young energy in the cause of humanitarian action. In a number of states young volunteers are making a significant contribution to meeting the needs of the most vulnerable people within their local communities through IRCS youth programs. Junior and youth Red Cross programs are an integral part of the strategic approach taken by the IRCS. Where active, the junior and youth Red Cross groups offer IRCS branches a formidable strength both in times of emergency and time of preparedness. A substantial portion of the membership of Indian Red Cross Society is made up of young people. Young volunteers can make a significant contribution to meeting the needs of the most vulnerable people within their local communities through Red Cross youth program.
For IRCS, young people are important, not only as means to change the society but also as focus of our various intervention. We understand that a special focus on young people is a crucial today but also for the future. The safety and protection of young people in all the circumstances must be addressed, taking into account their age- and gender-specific needs. We have designed some youth centric interventions. Also, in almost all our activities, we make sure that youth gets the benefits of the interventions along with other sections of the society.
I take this opportunity to invite you and your friends to join IRCS at your school and colleges. School and college are the best places to test your capabilities, and volunteerism is a vital part of education. Further, through your association with IRCS, You will discover opportunities for self-awareness, and develop leadership and organizational skills while meeting new people.

Manish Choudhary
Joint Secretary (Incharge)
Indian Red Cross Society